Dr. Marilee Bresciani Ludvik - Curriculum Vitae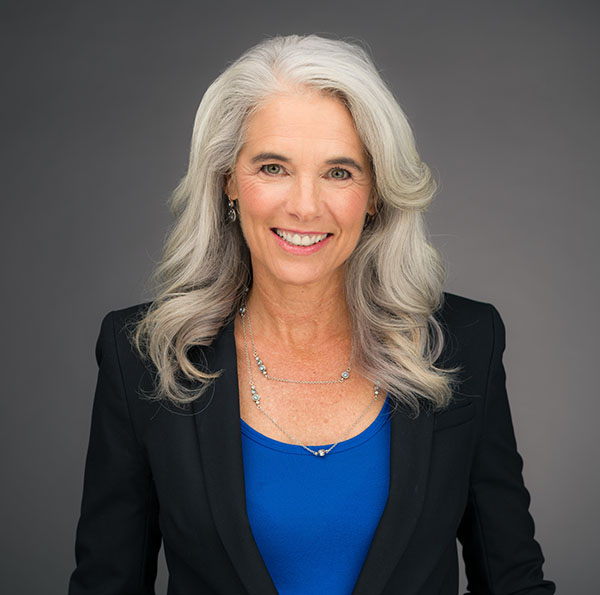 What's the story of my life?
Thankfully, it's still being written.
So far, the most significant influence has been what happened before and after I was diagnosed with a neurological auto-immune disease. Facing the physician unable to walk without assistance after enjoying a daily routine of running 5 miles to alleviate stress and anxiety, the physician's words, "be grateful it's not a terminal disease" did not fill my heart with gratitude. Instead, I felt anger. She believed there was nothing anyone could do to help me healthfully address stress and anxiety or return to a state of human flourishing.
Over a decade later, with the intervention of many who did not believe that physician's words or the 9 other physicians who followed her, I still experience pain in the body. Some days it's difficult for me to walk without assistance well, and I never know when those days might be coming. However, human flourishing is present in my life, as is immense gratitude for every day I am alive. I love my life! The work that allows me to experience this flourishing is what we share through the Rushing to Yoga Foundation. "I get to teach what I am discovering every single day!" We invite you to join us on this journey, will you?
Professional Bio:
Marilee Bresciani Ludvik, Ph.D. serves as a professor of postsecondary educational leadership at San Diego State University. Prior to that, she served as Assistant Vice President of Institutional Assessment at Texas A&M University and in a variety of student, academic affairs, and alumni relations leadership roles at various types of institutions. As a faculty volunteer, Bresciani Ludvik serves on San Diego State University's Student Learning Outcomes and Programmatic Assessment Committee, and the university's Student Success Working Group. She has assigned time to work within the recently established Office of Educational Effectiveness at San Diego State where she assists in connecting student learning and development outcomes to equity performance indicators in a manner that can inform improvements in course and program design and delivery. Bresciani Ludvik also volunteers her time on the California State University 2025 Data-Driven Decision Making Task Force and the San Diego State University Data Champions research group.
Marilee has written 12 books, published over 200 scholarly articles, and empowered over 200 institutions and their leaders on organizational learning assessment and accountability decision-making processes. In addition, Marilee assists organizational leaders identify and leverage opportunities to collaborate across division lines, using mindfulness-based inquiry practices, nonviolent communication, difficult conversation practices, paradigm busting processes, compassion practices, restorative justice, and design thinking. As a certified transformational life coach who uses the evocative method, Marilee is a Fellow of the Institute of Coaching at McLean Hospital, a Harvard Medical School affiliate.
Marilee is also a certified meditation and yoga instructor, certified Search Inside Yourself Leadership Institute teacher (the program developed at Google), and a Qualified Mindfulness-Based Stress Reduction teacher on the certification path. Marilee's research focuses on using translational neuroscience and mindful compassion practices to inform the design and evaluation of workshops, curriculum, and coaching practices to decrease students', faculty, and administrators' stress and anxiety while also increasing their attention and emotion regulation, cognitive flexibility, and enhancing compassion, inquiry, creativity, and overall well-being.
Marilee is thrilled that she gets to empower educators, staff, administrators, and student leaders to get in touch with their passions so they can positively transform their lives and the lives of those they serve! Marilee can be reached at mbrescia@sdsu.edu
Dr. Sax is Professor and Chair of the Department of Administration, Rehabilitation, and Postsecondary Education and Co-Director of the Interwork Institute at SDSU. Dr. Sax teaches in the Rehabilitation Counseling Masters degree program and the Doctorate of Education in Educational Leadership/Community College Leadership Concentration, and administers a graduate-level Certificate in Rehabilitation Technology (with SDSU's College of Engineering) and the Supported Employment and Transition Specialist Certificate. As Co-Director of the Interwork Institute, Dr. Sax oversees more than $10 million dollars annually in grants and contracts funded through federal and state resources that address the following areas: removing barriers to employment and increasing self-sufficiency for persons with disabilities; technical assistance and continuing education for state agency and community rehabilitation personnel; systems change efforts to improve school-to-work transition services for students with disabilities as they exit the K-12 school system; coordinating supports and services with military families who have children with developmental disabilities; and professional development activities related to assistive technology and universal design. Dr. Sax conducts training for rehabilitation counselors and administrators, community rehabilitation personnel, special educators, and disability organizations in the US and internationally and has published extensively in the disability field. She started her professional career as a special education and transition teacher in Tucson, Arizona.
Dr. Caren Sax can be reached at csax@mail.sdsu.edu
Please visit Dr. Harris' website
Dr. Frank Harris III can be reached at frank.harris@sdsu.edu.
Shaila Mulholland, Ph.D. is Assistant Professor in the Department of Administration, Rehabilitation, and Postsecondary Education in the College of Education at San Diego State University. Currently, Dr. Mulholland's teaching and research interests focus on the history, philosophy, and development of community colleges, and on examining and documenting innovative approaches to improve student learning and preparation for postsecondary education.
Through her research, Dr. Mulholland seeks to illuminate the experiences of students and institutions (such as community colleges) that are either often marginalized, misunderstood, and/or misrepresented in education. She has integrated various interdisciplinary perspectives and methodologies to gain a holistic understanding of the intended and unintended consequences of educational policies and programs. Utilizing such an approach, Dr. Mulholland recently completed an ASHE-Lumina Foundation funded dissertation project, The Lessons from Fifty Years of Access and Equity Struggles in Indiana, which explored the evolution of the Indiana statewide community college system from 1950 to 2000.
Prior to coming to San Diego State University, Dr. Mulholland was an independent researcher with the California Community College Collaborative (C4) based at the University of California Riverside; a research assistant with the Alliance for International Higher Education Policy Studies at New York University's Steinhardt Institute for Higher Education Policy; and a project associate with the National Survey of Student Engagement (NSSE) at Indiana University Bloomington. She is an active member of the following professional organizations: the Association for the Study of Higher Education (ASHE), the American Education Research Association (AERA), Council for the Study of Community Colleges (CSCC), the Organization of Educational Historians (OEH), and the History of Education Society (HES).
Dr. Mulholland holds a Ph.D. in Higher Education Administration from New York University and a M.S. in Higher Education and Student Affairs from Indiana University Bloomington.
Dr. Tucker is part-time faculty with the Department of Administration, Rehabilitation, and Post-Secondary Education at SDSU, where he teaches courses addressing methods of inquiry, quantitative research methods, program evaluation, medical and psychosocial aspects of disability, and counseling practice. Mark is also a project manager with the Interwork Institute at San Diego State University where he is engaged in a variety of needs assessment, training and program evaluation activities focused upon the interaction between disability, education, and employment. Prior to joining the staff at the Interwork Institute, Mark worked as Program Coordinator for a Southern California-based non-profit agency providing case management, crisis counseling, and vocational planning services. Mark is a certified rehabilitation counselor; he holds a Masters of Science degree in Rehabilitation Counseling from San Diego State University, and a Ph.D. in Human Rehabilitation, with a doctoral minor in Applied Statistics and Research Methods, from the University of Northern Colorado.
J. Luke Wood, PhD., is Assistant Professor of Administration, Rehabilitation, and Postsecondary Education at San Diego State University. Dr. Wood is Co-Editor of the Journal of African American Males in Education (JAAME) and Chair of the Multicultural & Multiethnic Education (MME) special interest group of the American Educational Research Association (AERA). His work has focused on the development of academic programs designed to cultivate ethical leaders focused on issues of social justice and educational equity. This has included service as a doctoral program director and a co-coordinator of a leadership fellowship program. His research focuses on ethical leadership and decision-making in the community colleges as well as Black male achievement in the community college. Dr. Wood has authored numerous peer-reviewed articles, book chapters, and reports. He is co-author of the textbook, Community College Leadership & Administration: Theory, Practice, and Change (Peter Lang). He is also co-editor of the book, Black Men in College: Implications for diversity, recruitment, support and retention (Routledge). Wood received his PhD in Educational Leadership & Policy Studies with an emphasis in Higher Education from Arizona State University (ASU). Dr. Wood has been the recipient of the Sally Casanova Pre-Doctoral Fellowship from which he served as research fellow at the Stanford Institute for Higher Education Research (SIHER), Stanford University. His scholarship and professional practice have been lauded through awards/honors, including: the Mildred Garcia Award for Exemplary Scholarship (ASHE-CEP); Outstanding Graduate Award (ASU-Alumni Association); Dean's Excellence Award for Graduate Research (ASU Fulton College); Top 30 under 30 Award (Sacramento Observer); Robert H. Fenske Fellowship for Higher & Postsecondary Education (ASU Fulton College); and the Distinguished Fellows Presentation Award (ISETL).
Website: www.jlukewood.com
Cyd Jenefsky, Ph.D., is adjunct faculty for the Center for Educational Leadership, Innovation and Policy. She is Professor and Associate Vice President for Academic Affairs at John F. Kennedy University. As director of the Office for Educational Effectiveness at JFKU, she led the collaborative design and implementation of outcomes-based systems for assessing student learning and program quality.
Dr. Jenefsky also serves as an organizational consultant and workshop leader in the U.S and internationally. In her consulting work, she collaborates with university faculty, deans and senior leadership to innovate new systems and practices to enhance student and organizational learning. This includes cultivating capacity for meaningful assessment of student learning, fostering innovations in academic learning, implementing outcomes-based program review processes, and designing peer mentoring and peer leadershipprograms to accomplish broad cultural shifts in the organization. She also assists universities with meeting accreditation requirements, and conducts workshops for the Western Association of Schools and Colleges.
At the invitation of the Fetzer Institute, Dr. Jenefsky is now embarking on a four year mentoring project on transformative learning in higher education. Working with eight elders and fifteen other mid-career educational leaders, the project seeks to cultivate the next generation of higher ed leadership in transformative learning.
During her 25 years in higher education, Dr. Jenefsky has also spearheaded university diversity initiatives; directed the Ford Institute for Integrative Coaching at JFKU; and has designed/directed academic programs in multicultural studies, women's studies, and social ecology at JFKU and the University of Georgia. Her early research focuses on the multiple constructions of gender, race and ethnicity in U.S. culture, including higher education. Her book, *Without Apology: The Art and Politics of Andrea Dworkin *(1998), is the first critical analysis of the late author's literary nonfiction. She graduated *Phi Beta Kappa* from the University of California at Davis, and received her M.A. and Ph.D. in Communication Arts from the University of Wisconsin-Madison.
Dr. Jenefsky can be reached at jenefsky@jfku.edu.
Irina A. Weisblat, Ed.D., holds a doctorate in Educational Leadership from the Department of Administration, Rehabilitation, and Postsecondary Education at San Diego State University (SDSU), a Master's degree in Business Administration (Global MBA) from National University, San Diego, and a Bachelor of Arts degree in English, with concentration in Teaching, from St. Petersburg University, Russia.
In addition to her 15-year professional experience in business, Dr. Weisblat has been teaching various courses to undergraduate and graduate students, at the university and community college levels. Her educational background, expertise in business, substantial experience in higher education, and her leadership roles in professional organizations have influenced her research interests. Her research focuses on educational effectiveness and development of basic skills and global competencies in students. Dr. Weisblat's doctoral dissertation was concerned with the effectiveness of business education in California. Specifically, her survey of California community college educators and business leaders explored the question of whether the skills and competencies that the colleges teach actually meet the needs of the global economy.
Dr. Weisblat's academic writing includes topics ranging from the problems associated with student learning and basic skills development in California Community Colleges to the issues of sustainability of the curriculum in higher education and workforce development for the green economy. Dr. Weisblat has presented her research findings at the state and regional professional conferences, as well as the SDSU Research Symposium. In recognition of her scholarship, the National Business Education Association (NBEA) awarded her with the 2010 Scholarship Achievement Award.
Dr. Weisblat can be reached at iweisblat@cox.net
Gavin W. Henning, Ph.D. is Senior Research Analyst in the Office of Institutional Research at Dartmouth College where he provides analysis and decision support for institutional leaders.
Gavin developed and teaches the Assessment and Research in Higher Education in the Master of Science in Higher Education program at New England College. He also teaches the Assessment in Student Affairs course in the Master of Arts in Higher Education In Student Affairs program at Salem State University. In addition to the courses he currently teaches, he has taught undergraduate, master's, and doctoral courses at public and private institutions.
With nearly 20 years in student affairs and higher education, Gavin has experience in residential life, judicial affairs, alcohol and other drug issues, diversity initiatives, and institutional research. Prior to his current role, Gavin served as the Director of Administration for the division of student affairs at Dartmouth College. In this position, Gavin managed divisional student affairs functions including assessment, planning, professional development, communication, development, and information systems.
Gavin has over 10 years of experience in student affairs assessment and planning serving as Director of Student Affairs Planning, Evaluation, and Research at Dartmouth College and Director of the Student Affairs Research and Assessment Center at the University of New Hampshire. In these positions he worked to develop cultures of assessment at the department and institutional level empowering practitioners to embed assessment and planning into their daily practice to more effectively and efficiently deliver programs and services to support student learning and success.
Gavin's scholarship has been published in professional journals and he has been an invited speaker at regional, national, and international conferences. His current research interests focus on assessment scholarship and the knowledge and skills needed for assessment professionals. He has been honored by ACPA for his research and his contributions to student affairs.
Gavin is currently a member of the ACPA Governing Board serving as Director for Professional Development. He also is a board member for the Council for the Advancement of Standards in Higher Education (CAS). Additionally, he is founder and president of Student Affairs Assessment Leaders, an international organization of student affairs assessment professionals.
He holds a Bachelor of Science degree in Psychology and Sociology from Michigan State University, a Master of Arts degree in College and University Administration from Michigan State University, a Master of Arts degree in Sociology from the University of New Hampshire, and a Doctor of Philosophy degree in Education Leadership and Policy Studies from the University of New Hampshire.
Gavin can be reached at gavin.henning@gmail.com.
Wendy Bracken has an Ed.D. in Educational Leadership from San Diego State University (SDSU). She is also a program coordinator for the Center for Educational Leadership, Innovation and Policy. Her research is focused on the impact of personality and engagement on the academic achievement of college students. As a Master's student, she conducted research on the effects of physical and verbal aggression on cardiovascular reactivity and is currently perusing research regarding the interaction of student engagement and personality characteristics on academic success.
Prior to initiating her doctoral studies, she served as a research associate at SDSU for the Cardiovascular Research Laboratory assisting with an NIH funded study of relationships, emotions, and health outcomes. Following this, Dr. Bracken was the coordinator of SDSU's Human Research Protection Program. In this position, she provided education to students, faculty, and staff regarding research ethics. She also played a key role in the establishment of original learning programs, such as the creation of a student training curriculum geared towards teaching students to serve as research administrators, development of an online research ethics tutorial, and presentation of a seminar series designed to provide a forum for discussion with peers/colleagues about ethical practices in research. Dr. Bracken also served on the development team for the creation of curriculum and assessment materials for the Office Research Integrity.
Wendy Bracken completed a Bachelor of Arts, Master of Arts in Psychology at San Diego State University and a Doctorate in Educational Leadership.
Wendy Bracken may be reached at wsbracken@mail.sdsu.edu
Gregory Wilson is a curriculum analyst for the office of Enrollment Services at the San Diego State University (SDSU). In this role Wilson coordinates the campus curricular process and facilitates the development of proposals for new and revised degrees, programs, and courses. Prior to this, Wilson was an administrative/research coordinator for the College of Arts and Letters and Division of Research Affairs at SDSU. He also co-directed the publications division of The Ohio State University's National East Asian Languages Resource Center – a U.S. Department of Education Title VI center. Wilson's research interests include concepts of integrative learning and engagement, the application of emergent technologies in student learning and development, institutional planning and research, and academic and administrative program assessment. Wilson completed his B.A. at The Ohio State University and his M.A. in Postsecondary Educational Leadership at SDSU. Gregory Wilson may be reached at gwilson@mail.sdsu.edu and followed on Twitter, http://www.twitter.com/greggrz.