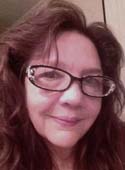 Leesa Brockman
Phone: (619) 594-6406
Fax: (619) 594-4208
Email: lbrockman@interwork.sdsu.edu
---
My name is Leesa Brockman and I am the Academic Coordinator for the Rehabilitation Counseling program located within the Department of Administration, Rehabilitation and Post-secondary Education at San Diego State University. My role in the department is to assist students in completing their educational goal of obtaining a Master of Science in Rehabilitation Counseling. I also assist students with scholarship information, community resources, career services and alumni relations.
I hold an undergraduate degree in Education and an MA in Postsecondary Educational Leadership with a specialization in Student Affairs from San Diego State University. I have always had a deep interest in technology, disability and universal design. I apply these interests towards assisting students and enjoy seeing the transformational results as I greet alumni in the community who are making a difference in the lives of people with disabilities.
I am here to answer your questions, so email or call me with questions about the Rehabilitation Counseling program.