CAIR Mission Statement:
The Circle for American Indian Rehabilitation (CAIR) is a center devoted to the Continuing Education, Training, and Technical Assistance needs for programs funded through American Indian Rehabilitation Service Projects under section 121 of the Rehabilitation Act. It is the focus of CAIR to provide high standard of continuing education and training through established rehabilitation curriculum with attention to culture and American Indian VR issues and perspectives.

The 7th Annual AZ AI Disability Summit will be 4/1/11 in Phoenix, AZ

CAIR hosts the American Indian Advisory Council Website for California Department of Rehabilitation, develped in partnership with the American Indian Advisory Council and CAIR.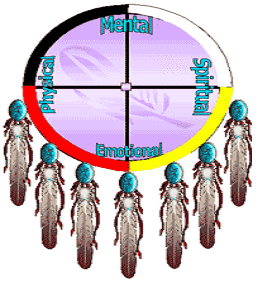 American Indian Vocational Rehabilitation Programs (section 121) have been providing culturally appropriate VR services to "Indian Country" for over 20 years. Interwork Institute has employed Tribal members for over a decade. American Indian staff has focused education and training delivery to Tribal VR Programs with attention to culture, sovereignty, tribal protocol, and unique program issues and perspectives for appropriate and competent service delivery. CAIRS was developed with these unique education and training needs for Tribal VR Programs throughout the nation. Interwork Institute staff have traveled and provided training onsite for over 50 Tribal Nations throughout the United States . Experience working with Tribal governments has been key to appropriate and successful programs designed for continuing education in "Indian Country".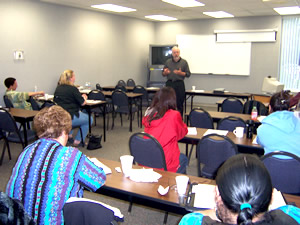 CAIR currently operates two Post Employment Training American Indian Rehabilitation (PET-AIR) Certificate Programs: The post-graduate level Rehabilitation Administration certificate and the post-secondary level Bachelor in Vocational Education certificate. There is also an established partnership with American Indian Disability Technical Assistance Center (AIDTAC) at the University of Montana . CAIR will be providing requested service to AIDTAC. CAIR will continue to grow to address the needs of Tribal VR Service Programs.
For information and applications for the CAIR Program, contact:
Jim E. Warne MS, CAIR Director
Phone: 619-594-6163 Fax: 619-594-4208
E-mail: jwarne@interwork.sdsu.edu
---
Home | Centers | Degrees and Credentials
Programs and Training | Research | Faculty and Staff | Support

The Interwork Institute is administered through the
College of Education, San Diego State University and the SDSU Research Foundation.
3590 Camino del Rio North, San Diego 92108. Phone: 619-594-2462
Send any questions or problems regarding this website to: cdl@interwork.sdsu.edu
Copyright 2008